My Nerd Dream comes true!
This year's GenCon was filled with some pretty staggering moments of Nerd Zen. You've already been regaled by Vanir's brush with D&D Celebrity, and now I would like to tell my own.
The tale begins the Christmas before last, when my good buddy Dave from eScapes Photo gifted me his set of original D&D sourcebooks, including four supplements. I was ecstatic at the gift, and was happy to show them off to all of my roleplaying savvy friends whenever possible.
This year, upon seeing the announcement that Gary Gygax was going to be an Industry Guest of Honor I knew that I had to try to get him to sign my books. Imagine my surprise when I was able to walk right up to his table and fulfill this goal while only having to wait behind one person in line. Because I didn't want to be That Guy, I originally only had him sign my three core rulebooks however later on in the convention I did make a second trip to get my supplement books signed.
I found Gary to be extremely good natured, taking the time to pose for pictures and chat. For some reason I was imagining a long line with signing limits and him being largely frustrated at having to have the same banter with generation after generation of nerds. I was very impressed at how kind he was in person and how eager he was to sign my stuff.
When I went to get my supplements signed, I was wearing our Save The Owlbears t-shirt. Gary seemed to like it quite well and told me a story about a friend of his that used to wear "Save The …" shirts of various kinds. He asked if we had a card, so I quickly reached into my pocket and pulled out a card. We had made 100 cards with various t-shirt design slogans on them, and the one I handed to Gary was "Gnomes are mining my butt for coal". I didn't realize this until I saw that Gary was laughing at the card, and I wanted to die a little when I realized which one it was. Despite that, it was really cool that Gary enjoyed the shirt design and that really made my day.
The story doesn't end there, however. The guy I was standing behind was also getting some books that looked VERY close my edition signed and Gary told him "hm… looks like the third printing so this is one of 3300 copies." Since I didn't exactly know the pedigree of my books, I decided to go and ask the knowledgeable folks over at Crazy Egor's (I'd link them, but they don't appear to have a web presence) and ask. I got about three questions in with Mrs. Egor when I mentioned that I had just got Gary to sign the books, and she said "oh, why didn't you get Dave [Arneson] to sign them too? He's sitting five feet behind you!"
So I turn, and lo and behold there was Dave Arneson, author of the excellent Blackmoor setting and co-author of Dungeons and Dragons. He was equally kind and eager to sign my books. He even signed my Blackmoor supplement, which was very cool because he was selling an updated edition of the Blackmoor setting at the convention. He was recovering from foot surgery and did not want to have pictures taken, but the experience was so great that I doubt I will need photos to remember it by!
A true nerd's dream come true, and all in the first half-hour of GenCon! Here's a shot of (r to l) Stupid Ranger, myself, and Gary Gygax (you'll notice that we're wearing a few of the StupidRanger.com shirts, available in our shop)!!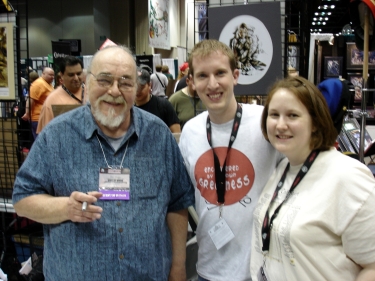 And here's Gary signing my books!