This is the face of a Game Changer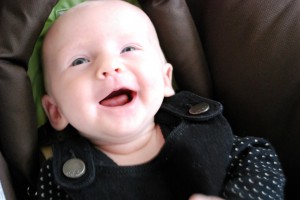 Ladies and gentlemen, this is the face of our personal Game Changer.  In March, Stupid Ranger and I welcomed into our adventuring party a little girl named Eve.  The last two months have been filled with the machinations of learning to care for a sleep-eating, cuteness-oozing little bundle of joy, so our regular gaming efforts have been largely on pause and so goes our blogging inspiration.
The good news: we have taken a few opportunities in our own way to continue to game.  We have had our D&D group together for a session just recently, which also coincided with Free Comic Book Day and an outing to see Thor (which was much better than I expected).  This day of epic nerdity helped to restoke the fires.  Stupid Ranger has been spending her spare time diving headlong into Dragon Age 2, and she has mentioned more than a few times that she wants to write a review up on that to tell you all of her experiences in Ferelden.  The point of mentioning all this is that you might see a bit of variety to our posts, reflecting the type of nerdy behavior that we're able to participate in.
The bad news: I had to use most of my vacation time this year to welcome our new addition, so Stupid Ranger and I will not be able to attend Gen-Con this year.  But fear not!  Our very own Vanir will be attending and will be sure to bring his ultra-special roleplaying expertise to the convention center and the surrounding three mile radius.  We will be sure to share liberally his event schedule so you can meet up with him and receive your own free hair trimming to improve your gaming fortune.
Finally, I'd like to thank our loyal readers who have stuck around during this sabbatical.  With any luck we will return to a more frequent blogging schedule as things return to normal and our gaming resumes in earnest.  More soon!