D&D Starter Red Box: The Solo Adventure and more…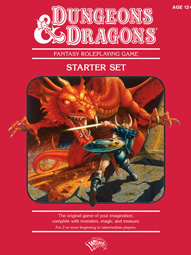 Over the weekend, Stupid Ranger and I secreted ourselves in a mountain cabin outside of Colorado Springs and we brought along with us the D&D Red Box.  We were accompanied by another couple who had never played D&D before.  This was a recipe for distilled awesome, so on Sunday we introduced D&D to two new people.
The Solo Adventure and Character Creation
Stupid Ranger took them through the solo adventure, to help with character creation.  She reports that the character creation was very well done for beginners, but there were aspects of it that she was missing as a more advanced character.  I did notice that a few times that one of our new players (Paul) was asking a lot of questions about things that were physically next to each other on the character sheet and the solo adventure did a fair amount of "jumping around" that was somewhat confusing.
I liked that the solo adventure helped to set up the rest of the adventure, and the way it presented the decisions that controlled class and alignment were exciting for brand-new players.  Paul was already fairly "in-character" by the time the solo adventure was complete, embracing his elven rogue on a deeper level than I would have expected from more standard character generation.
The Adventure Begins
While Stupid Ranger was helping with character creation, I was busy reading the Dungeon Master's Book in preparation for the adventure.  It was very easy to pick up, the layout of the book made a lot of sense.  In my best attempt to follow the rules, I started the group with the first encounter at the crossroads.  Combat mechanics were explained very clearly, and before the end of the first encounter Paul was already using "flanking" and "that combat thingie" (advantage) as part of his lexicon.  It was interesting to see positive reinforcement at work… the first time he got to roll extra Sneak Attack damage he was trying to invent ways to use it all the time.
Paul was quick to ask about whether or not he could use any of his skills to help out in the early part of the dungeon and aside from an active perception check and the discovery of a trap there really wasn't much to use the skills on.  The group unfortunately traversed the dungeon in such a fashion to avoid the major skill challenge (the one thing I wanted them to do, rats!) but they had a lot of fun.  Since we only had one night, we stopped short of completing the entire adventure but it was enough to give the two new players a sense of what D&D is all about.
Running the game was very easy.  Some convenience things that I enjoyed: the Dungeon Master's Book had nice full pages dedicated to each of the creatures in the adventure.  This made it very easy to show new players what a goblin or a drake looked like, by simply folding the page back and letting them see the artwork.  As previously predicted, the tokens were great in lieu of miniatures and I still hope they figure prominently in future D&D modules.
My criticisms: the adventure is combat heavy and a small group of three first level player characters got exhausted quickly.  The baddies do a considerable amount of damage for a group of that size and it was difficult progress.  The power cards, while attractive, are a little more flimsy than I expected them to be at first and I almost tore a few of them while punching them out.  Also, our new players wanted power cards for all of their skills, and certain class skills (like Sneak Attack) didn't have an associated card.
As I mentioned before, running the game was pretty easy.  I was tripped up at one point by the Dire Rats, which had "Hit: 1d10 +5 damage, and the target is exposed to filth fever."  Some quick looking around did not yield any information on what Filth Fever was or how to progress it, so I skipped it.  I accidentally found the information I needed later while leafing through the monsters section looking for a photo of another bad guy, separated 27 pages from where I needed it with no annotation to indicate that it was even there.  Frustrating.
Final Thoughts
The Red Box provides a solid starter set that is attainable to new players.  Character creation is straightforward, dare I say even interesting when presented via the Solo Adventure.  The DM's Book does a decent job of presenting the tools that a new DM needs, providing a great primer on how to run a game.  The included adventure is easy to run for a veteran Dungeon Master and provides a significant challenge, even though more could have been done with skills.  A bit of additional roleplaying would've been nice as well, but that might have been more prevalent in the skill challenge that our group skipped.
Paul did a great job on his first adventure, playing a skillful and witty elven rogue.  His wife, Kara, wasn't as "into" the D&D game and opted to bow out after a few encounters but it wasn't from a lack of understanding how the game was played.  Stupid Ranger and I had a good time introducing the game to new players, and I had a good time finally exploring the contents of a D&D Box Set.